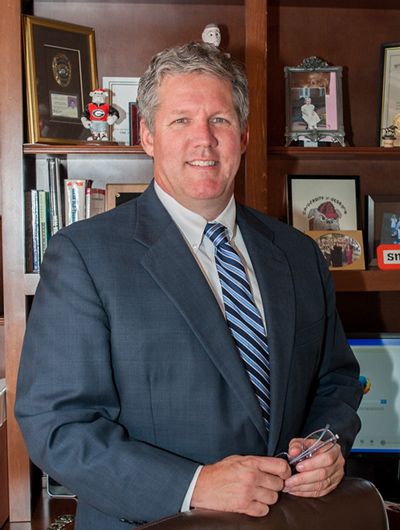 Neal's practice is concentrated in commercial, employment and probate litigation, and he also maintains a focus in personal injury and wrongful death cases. During his 24 year career, Neal has served as lead counsel in over 60 jury trials in State and Federal Courts throughout Georgia and Alabama and has argued multiple cases before the Georgia Court of Appeals and Supreme Court. Neal is a Master in the Columbus American Inn of Court and has been recognized by his peers as a Georgia Super Lawyers Rising Star.
In addition to individuals and small business clients, Neal serves as general counsel to a local hospital and has represented Fortune 50 companies, insurance companies, as well as governmental entities and charitable organizations. He has, on numerous occasions, also represented fellow attorneys in their own legal matters.
Since forming Waldrep, Mullin and Callahan, Neal has obtained several favorable jury verdicts including one of the largest personal injury verdicts returned in Georgia in 2010 and the largest award in a Muscogee County Probate Court jury trial in over 15 years. Last year he obtained a judgment for policy limits plus interest and sanctions in the form of attorney fees against Georgia Casualty and Surety Company after an eight-day jury trial on behalf of a small locally owned business. The case was litigated for ten years and he was opposed by three different well-known law firms. He also obtained a jury verdict against the area's largest home builder worth three times his largest pre-trial demand. The verdict was upheld by both the Georgia Court of Appeals and Supreme Court. Recently, on behalf of a defendant, he was able to limit a jury verdict to 12% of the Plaintiff's trial demand in a six day trial involving clear and admitted liability.

In the last ten years he has also:
Helped one of the nation's largest retailers obtain court approval of a nationwide class action settlement;
Represented two large international companies in Federal Court patent litigation involving a billion dollar pet pharmaceutical product;
Been successful in obtaining attorney's fees for his individual clients caught in the middle of Federal Court copyright litigation between two large companies;
Obtained Summary Judgments in medical malpractice actions on behalf of a local hospital;
Successfully argued before the Georgia Court of Appeals and Supreme Court overturning a 1.5 million fraud and breach of fiduciary duty award against a small family owned business;
Obtained Summary Judgment on behalf of three siblings in a will contest matter by applying the Georgia Anti-Lapse Statute in a case currently pending before the Georgia Supreme Court;
Been called upon by insurance companies to represent defendants in cases of bad faith and default Judgment with millions of dollars at stake;
Successfully pursued personal injury plaintiff cases to jury verdicts;
Successfully pursued and settled numerous personal injury and wrongful death plaintiff cases.
Prior to forming Waldrep, Mullin & Callahan, Neal practiced in Columbus as a small firm associate, an assistant district attorney responsible for prosecuting serious felonies at the trial and appellate court levels, and as a partner in what was the area's largest and oldest law firm.

Neal obtained his undergraduate and law degrees from the University of Georgia. He was President of his law school class and served on the Dean's search committee. Neal is highly active in his church and community. He has coached dozens of youth soccer teams and has served on the board of several organizations including Harris County Humane Society and the St. Anne Pacelli School Board and Finance Committee and the building committee for Christ the King parish in Pine Mountain. He has served as President of Columbus Young Lawyers and the Chattahoochee Bar Association and is currently the President of the Columbus Trial Lawyers Association and a regional Vice President of the Georgia Trial Lawyers Association. He is politically active and has served as chairman and treasurer or on the election committee of numerous local candidates. Neal and his wife Terry recently celebrated their 20th wedding anniversary and are raising their three children, Candace, Joe, and Sara Grace, in Pine Mountain, Georgia.
Education
University of Georgia – (1989) – B.A.
University of Georgia – (1993) – J.D.
Professional and Community Affiliations
State Bar of Georgia
Alabama State Bar
Georgia Trial Lawyers Association (Regional Vice-President, 2016 – present)
Columbus Trial Lawyers Association (Secretary/Treasurer, 2013-2015, President, 2015 – present)
Columbus Bar Association
The Columbus American Inn of Court (Master)
Chattahoochee Bar Association (President, 2005)
Columbus Young Lawyers (President, 1996-1999)
Harris County Humane Society (Past Board Member)
St. Anne Pacelli School (Former Board and Finance Committee Member)
Columbus Youth Soccer (Coach, 1994 – present)
Christ the King parish in Pine Mountain (Building Committee Member)
Licensed in:
Georgia, 1993
Alabama, 1995
Admitted to:
Georgia Supreme Court (1994)
Georgia Court of Appeals (1994)
All Alabama State Courts (1995)
Eleventh Circuit Court of Appeals (2001)
U.S. District Court for the Northern District of Georgia (1999)
U.S. District Court for the Middle District of Georgia (1995)