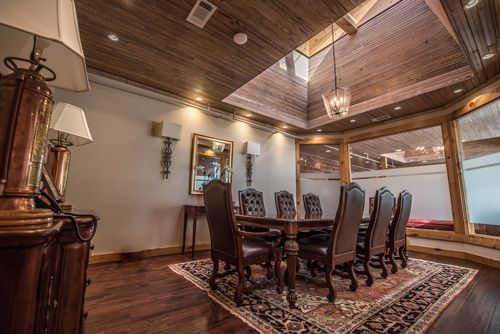 Established in January 2006, Waldrep, Mullin, & Callahan is a general litigation firm dedicated to serving a wide range of clients in all their courtroom needs. The firm was created with a focus on trying cases before juries at a time when fewer and fewer lawyers have true courtroom experience. Its lawyers have successfully litigated well over 200 jury trials to verdict in Federal and State courts throughout Georgia and Alabama and bring over 225 years of combined experience to bear on behalf of the firm's clients.
Overlooking the courthouse for the United States District Court for the Middle District of Georgia and within walking distance of the Superior and State Courts of Muscogee County, Georgia and the Circuit and District Courts of Russell County, Alabama, the firm's new office was selected and designed to further its litigation roots. With lawyers licensed in Georgia and Alabama, Waldrep, Mullin & Callahan has successfully represented its clients throughout both jurisdictions.
Founded by three partners from what was the area's largest and oldest law firm, the firm was created to remain small and cohesive and to concentrate almost exclusively on litigation. The firm's size minimizes conflicts of interest that often limits larger, general practice firms and provides better value for the individuals and small business clients it represents. The firm is equally comfortable representing large companies, however, and has achieved numerous verdicts for corporate clients that have been upheld on appeal. The firm is particularly proud of its appellate record, having won a vast majority of their cases before appellate courts.
The firm's commitment to outstanding representation in the courtroom extends to leadership in the bar and our community in general. Our lawyers have served as leaders of the local bar associations, and one served as President of the State Bar of Georgia. The firm's partners have all been selected to the Columbus American Inn of Court as either a Master or Barrister, and every lawyer has held positions in the community, such as serving on local charities, school boards, churches, youth organizations, and political campaign committees.