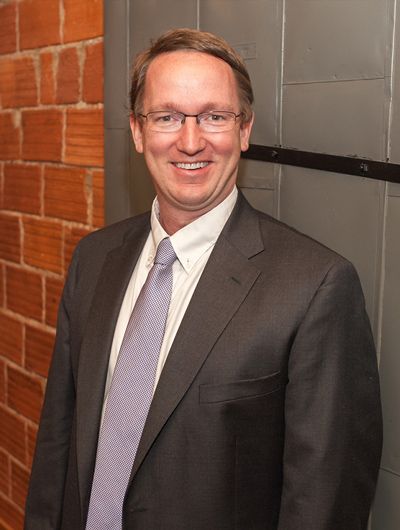 David Helmick is a partner in Waldrep, Mullin & Callahan, LLC and president of the Columbus Bar Association. He concentrates his practice in civil litigation across business disputes, personal injury matters, government defense, insurance and employment disputes. His experience ranges widely from representing plaintiffs in personal injury and wrongful death claims, property disputes, intellectual property disputes and Title IX athletic gender equity cases, to defending elected officials, individuals, and large corporations.
David has argued in both the Georgia Supreme Court and the Court of Appeals, and appeared before the federal courts in Columbus, Macon, Albany and Athens, Georgia. In addition to his experience before Georgia and federal courts, David has also handled matters before the Trademark Trial and Appeal Board. As a former prosecutor, David's practice frequently involves matters with a criminal or governmental element.

David joined Waldrep, Mullin & Callahan, LLC as an associate in 2012 and became a partner in 2015.

Some of David's outcomes in recent years include:
Obtained a defense verdict as lead counsel for two law enforcement officials sued for excessive force under § 1983;

Obtained full dismissal in favor of several law enforcement clients sued over plaintiff's search and prosecution;

Prevailed on summary judgment in defense of case involving exposure to toxic substances;

Secured favorable defense settlement in matter involving allegations of fraud and fiduciary breach pertaining to securities valued at several million dollars;

Prevailed on motion to dismiss in federal interspousal privacy violation lawsuit;

Secured summary judgment for elected official in action claiming retaliation, discrimination and harassment;

Following a claims denial, caused an insurer to undertake the removal of a lien that pre-existed client's real estate purchase, while also successfully litigating a bad faith claim against the insurer;

Secured favorable confidential recovery for cyclist struck by a tractor-trailer;

Secured favorable confidential recovery for a pedestrian struck by a motor vehicle while traversing a commercial parking lot;

Secured recovery for murder victim's family in federal interpleader action involving victim's life insurance policies;

Overturned an insurance company's denial of benefits to the family of an individual killed in a car wreck;

Secured favorable confidential settlement of several clients in false imprisonment claims.
Prior to joining Waldrep, Mullin & Callahan, David was an Assistant District Attorney in the Muscogee County D.A.'s Office for eight years where he prosecuted major felonies including murders, armed robberies, and complex thefts. As a felony prosecutor he successfully prosecuted a large number of jury trials as lead counsel, argued twice successfully in the Georgia Supreme Court, and represented the prosecution in several capital appeals and eleven appellate opinions.

David 's wife Amy is an Assistant U.S. Attorney in the Middle District of Georgia. They have a son and a daughter. David is an active member of Trinity Episcopal Church which he has served in many different ways including as an elected vestry member, usher, lector, and chair of the parish retreat committee. David is a four-time Ironman triathlon finisher and enjoys being part of Columbus' vibrant active community.
Education
Sewanee: University of the South – (2000) – B.A., Member of Swimming & Diving Team
Walter F. George School of Law, Mercer University – (2003) – J.D., CALI Awards for Excellence in Real Estate Transactions and Domestic Relations
Professional and Community Affiliations
Columbus Bar Association (President, 2023-2024)
Columbus American Inn of Court (Barrister)
Columbus Trial Lawyers Association
Georgia State Bar Attorney Wellness Committee (2019–Present)
Columbus Aquatics Commission (Board Member, 2017–2022)
Commission on Columbus, Georgia New Government and Judicial Building (2017)
Columbus–Muscogee County Charter Review Commission (Member, 2011-2012)
Chattahoochee Bar Association (President, 2011)
Licensed and Admitted in:
All Georgia trial and appellate courts
All Alabama trial and appellate courts
All South Carolina trial and appellate courts
Eleventh Circuit Court of Appeals
U.S. District Court for the Middle District of Georgia
U.S. District Court for the Northern District of Georgia
U.S. District Court for the Middle District of Alabama
U.S. District Court for the District of South Carolina